Due to the ongoing pandemic of COVID-19, and current safe-at-home guidelines Laurus College presented a Virtual Commencement Ceremony on January 23, 2021.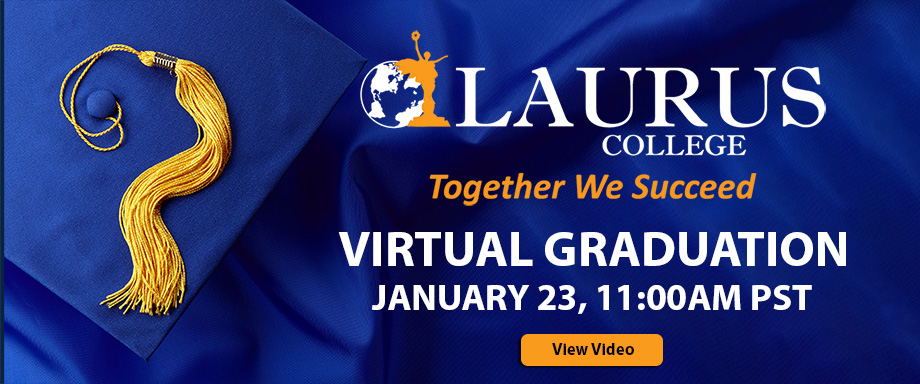 The ceremony opened with a slideshow of students and their families. Graduating college is a momentous occasion and students wanted to share the moment with their friends, family, and those who have supported them through their educational journey. There were images of students smiling with parents, grandparents, children, and even pets. Some posed in front of their homes, in their living rooms, or even in their favorite spots in nature.
As their loved ones appeared on the screen, people in the live chat cheered. They called out "GO MOM" and "Congratulations". Even though the ceremony was virtual, people wanted to connect with each other. There was a sense of joy and encouragement as graduates cheered on each other and friends and family celebrated together.
We are truly proud to be part of that growth and success and it's part of our job to make sure you have all the tools necessary.
– Jeff Redmond, Laurus College School Chancellor
Laurus College School Chancellor Jeff Redmond welcomed all the graduates, family, and friends. He spoke of graduation being a time of reflection and celebration. Chancellor Redmond said graduation is the launching point of a new dream for students. He counseled graduates to rely on their support system of friends and family and to utilize Laurus College resources and personal connections to help them succeed. "We will be there to help you along the way." He continued, "You have a tremendous future ahead of you and we are truly proud to be part of that growth and that success."
"Strive always to be open to change and willing to affect real change in the lives of those around you. "
– Eddie Taylor, CEO of the Regional United Way
Eddie Taylor, CEO of the Northern Santa Barbara United Way gave the keynote speech. Taylor spoke of how earning a degree marks an exciting time for graduates and their families. "You have invested time and money, indeed your life, in the future of not just your family but the community in which you choose to live." Taylor spoke of "the dash" between the day you were born and the day their life ends. "It is that dash that defines who we are and how we will be remembered. Your dash is a work in progress that you get to design." He went on to say that when we each do a little to improve our community, we can accomplish great things together.
"What we have exhibited is determination. We have all been driven to push forward through any obstacle that has tried to slow us down, even when those obstacles are ourselves."
– Roger Reyes, B.S. Web Design and Development
The student speaker was Roger Reyes. "Students are like ducks, " Said Reyes. He continued to say it looks like students are just sitting in from of the computer but their brains are rapidly spinning away. He spoke of how students complete their degrees while working, taking care of children and other loved ones, and giving up their free time to make it to the end. He urged his fellow graduates to keep determination in mind when obstacles come their way in the future.
"Never stop taking leaps of faith that will foster and define your narrative"
– Susana Guerrero, Director of Employer and Student Relations
Roger Reyes was followed by a short salutation speech by Susana Guerrero, Director of Employer and Student Relations. "Each of you have a story, a narrative that defines who you are." She said that by changing their narrative through hard work and dedication, students change their life for the better.
As names were called and pictures shown of each graduate during the conferring of degrees, people cheered virtually and flooded the chat with emojis of clapping, hearts, and fist bumps.
The commencement ceremony ended with well wishes and congratulations from each of the academic department directors and from the staff of career services and student services.
"Remember that the sky is the limit. Take that diploma and hang it on the wall. Share it with your friends, show it with your children, and let them know that whatever you put your mind to, you can be successful."
– Rebecca Sandoval, Director of Medical Billing and Coding
Get the Skills for the Rewarding Career You Want
Is a fulfilling career and a brighter future right for you? Get more info...